Stay up-to-date with psychedelic research
Always be in the know
with a Blossom membership
Be confident that you know the latest in psychedelic research
Watch our intro video to learn how Blossom can help you go from drowning in a sea of psychedelic news to confidently staying up-to-date with our resources.
For the price of less than one hour of work, save yourself tens of hours per month.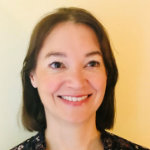 "It is wonderful to receive the Bloom newsletter summarising the latest psychedelics research. With so many exciting studies in the psychedelic space, it can be hard to keep up! The database and reports are excellent, too."
Blossom Pro
Get full & unlimited access to the databases
Not ready to commit? Try Pro with a monthly membership:
This includes:
Unlimited access for one account
All filters available in the databases

95 Full reports

2000 Full summaries of Psychedelic Research Papers (where available)
Weekly psychedelic research newsletter, The Bloom (on Tuesdays)
Personal profile priority updates
chatBlossom (our chat interface currently in development)
Download database data
Blossom Business
For teams: Get full & unlimited access to the databases
Not ready to commit? Try Business with a monthly membership:
This includes:
Unlimited access for up to ten accounts
All filters available in the databases
95 Full reports
2000 Full summaries of Psychedelic Research Papers (where available)
Weekly psychedelic research newsletter, The Bloom (on Tuesdays)
Company & personal profile priority updates
chatBlossom (our chat interface currently in development)
Download database data
Connect via API
You can cancel at any time.
Latest Research
In a rapidly evolving field like psychedelic science, staying up-to-date is crucial. That's where Blossom comes in. We are dedicated to bridging the gap between research labs and curious minds, offering various resources designed to keep you informed, inspired, and engaged.
Weekly Newsletter – The Bloom
We scour the globe weekly for psychedelic research's latest findings, breakthroughs, and thought pieces. Our comprehensive newsletter (delivered earlier to Pro & Business members) will keep you on the pulse of this exciting field. You'll receive a curated selection of the most significant scientific developments, all delivered straight to your inbox. Each article featured will have a full summary available on the corresponding page.
Monthly Research Recaps
Our Monthly Research Recaps provide a more in-depth look at key topics and studies. These concise, digestible summaries are perfect for those seeking to delve deeper into the nuances of psychedelic science. We break down complex research into understandable insights, helping you better understand the field.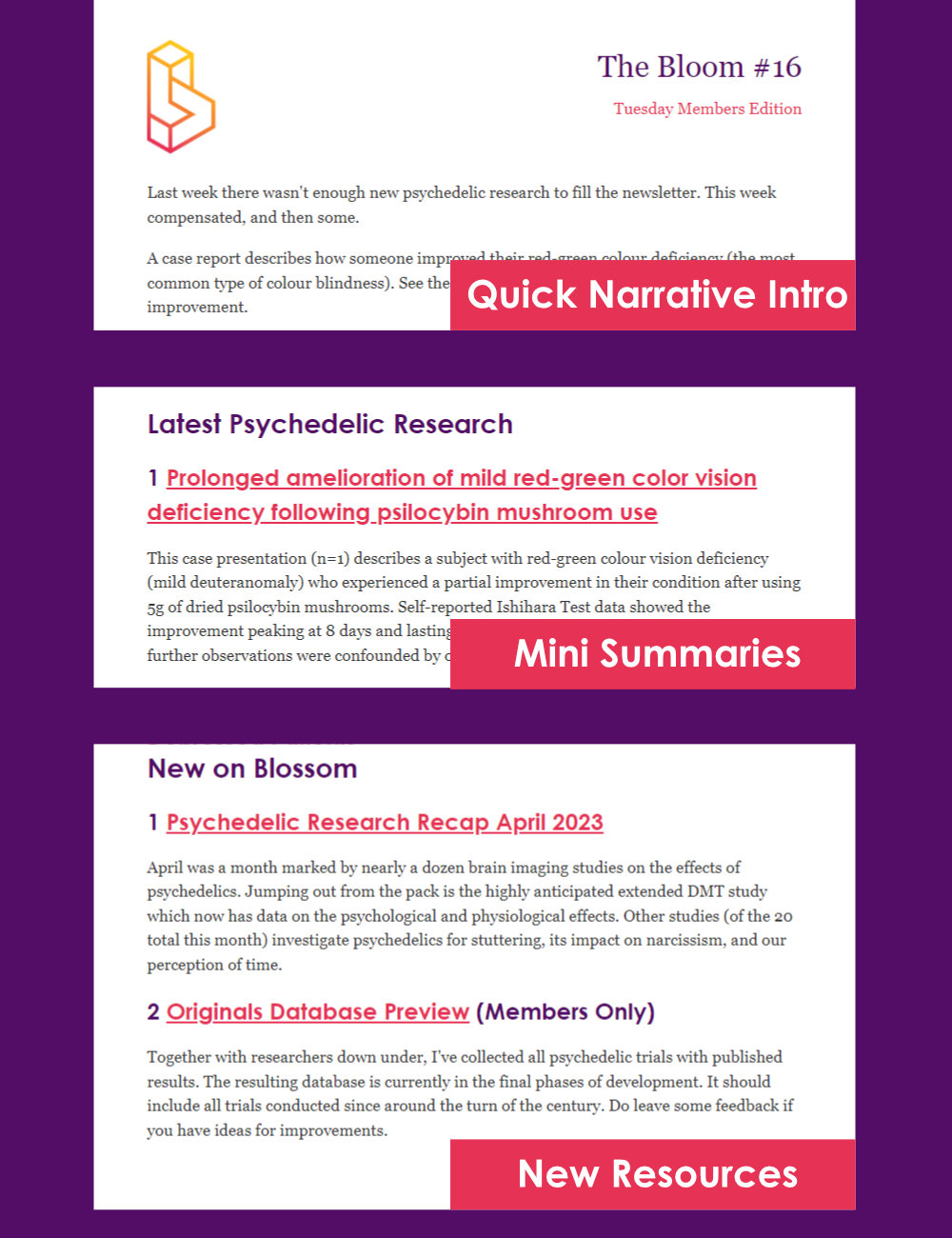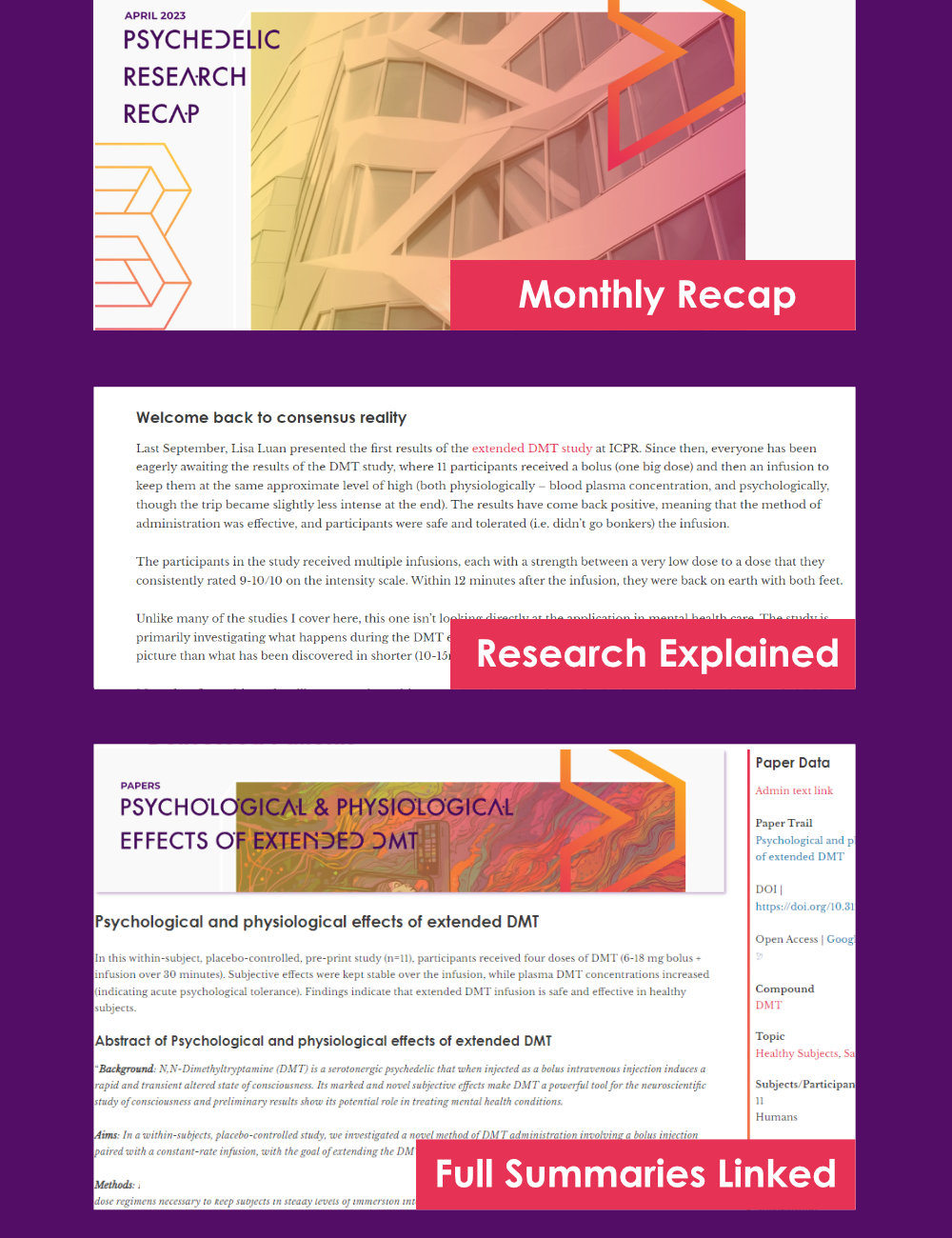 "The work that Floris and the Blossom team have done to document, organize and synthesize the emerging psychedelic research has helped me stay up to date with this fast-changing landscape. The Blossom newsletter and database are indispensable resources for anyone who wants to understand the psychedelic science and medicine landscape."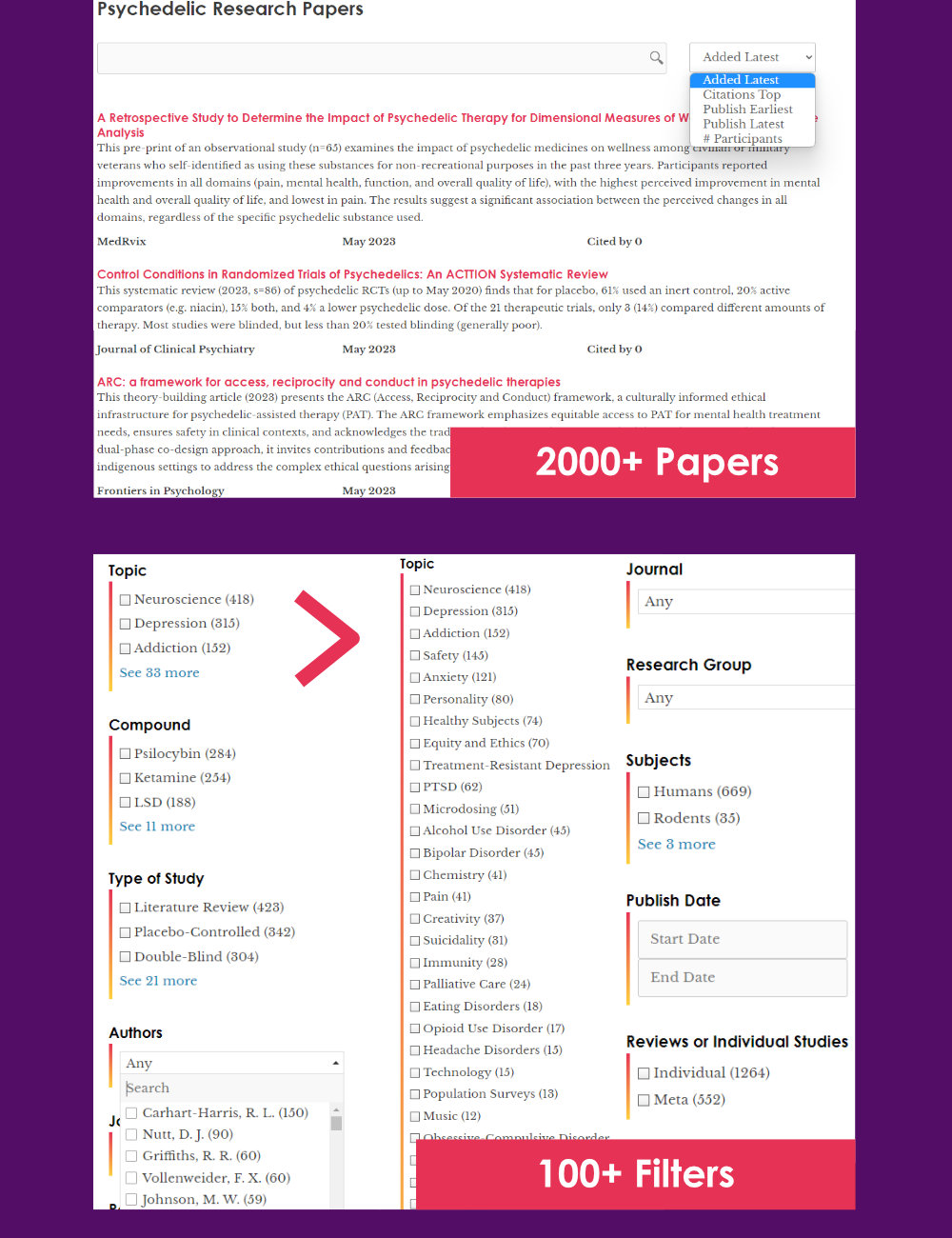 Database & Filters
At Blossom, we are proud to host a vast collection of resources. Our databases boast over 2000 research articles and encompass all psychedelic trials. We also cover all psychedelic courses and core books as a service to the community.
Navigating such a vast amount of information might seem daunting, but with our advanced filter (only for Pro & Business members) and search capabilities, finding the information you need is a breeze.
Whether you're looking for a specific author, drug, or a unique topic, our system is designed to make your exploration seamless and fruitful.
Deep-Dive Reports
At Blossom, we are committed to shedding light on the therapeutic potential of psychedelics. We've produced a series of comprehensive reports exploring their efficacy in treating various mental health conditions, such as depression and anxiety.
Each report is a culmination of rigorous analysis and study, presenting the latest findings in an accessible, easy-to-understand format. They provide detailed insights into how psychedelics make waves in mental health therapy, offering hope to those suffering from various mental health conditions.
As a Pro or Business member, you can download the full versions of these reports whenever they're available. Our team is constantly looking for new research and data so that you can expect regular updates to our report library. This is a key resource in staying ahead in the fast-paced world of psychedelic research.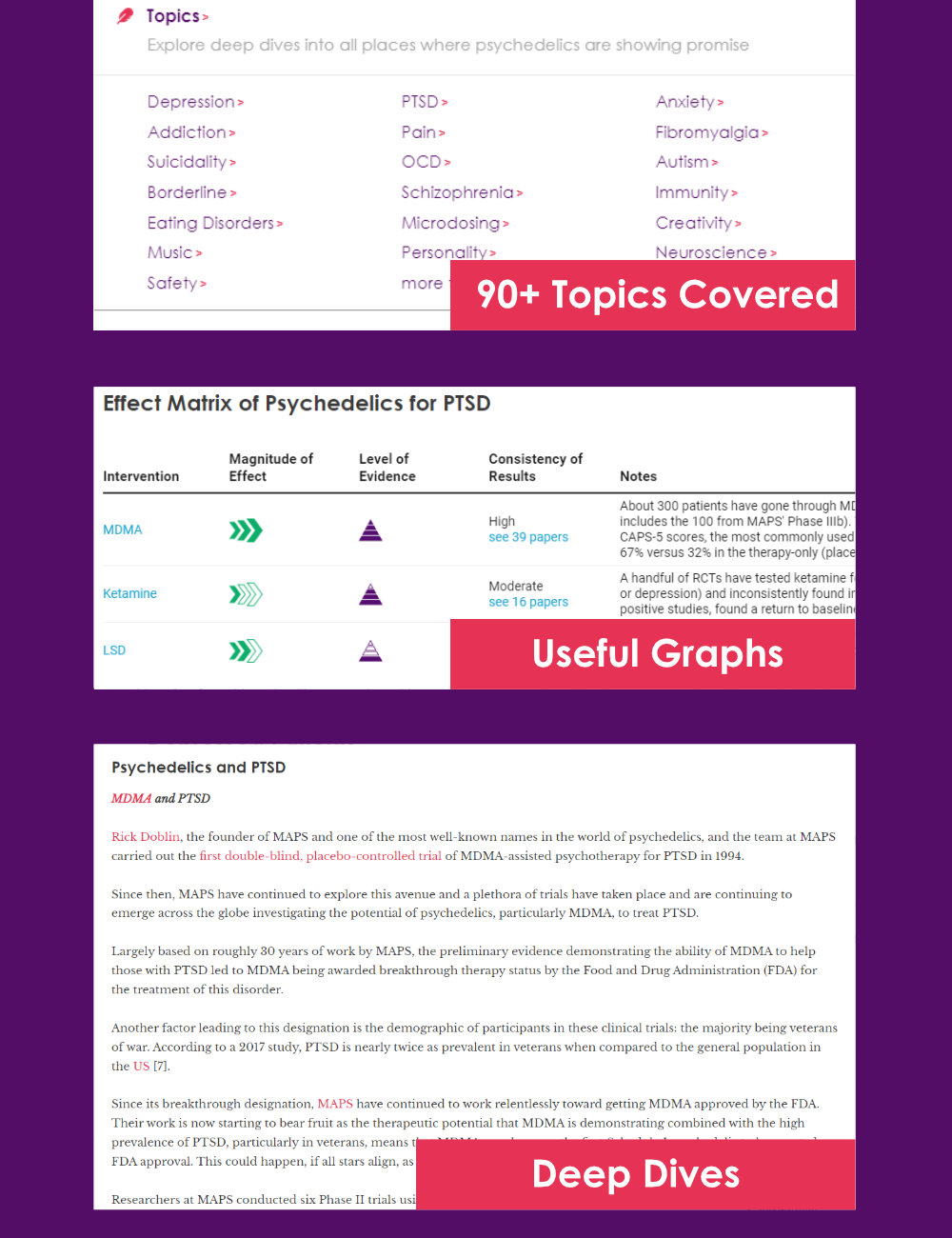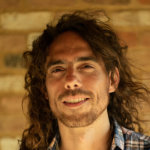 "With an ever-increasing surge of new information on psychedelic science, I have found Blossom to be an excellent service to keep me up to date on all psychedelic research. Truly useful in our age in which this kind of tools will only become more and more of essence."
Profiles – Highlight Your Contributions
For our Pro and Business members, Blossom provides an exclusive platform to showcase their unique contributions to psychedelic research. Pro members can enhance their individual profiles, while Business members can elevate their company pages. These profiles allow you to highlight your work, experiences, and achievements, establishing your presence within the community.
Moreover, Blossom prioritizes updates to Pro and Business member profiles. Whether you've published a new research paper or launched a new initiative, simply send the details to our dedicated Blossom team, and we'll ensure your profile reflects these accomplishments.
Additionally, we automatically update your profile with new scientific publications linked to your name or organization.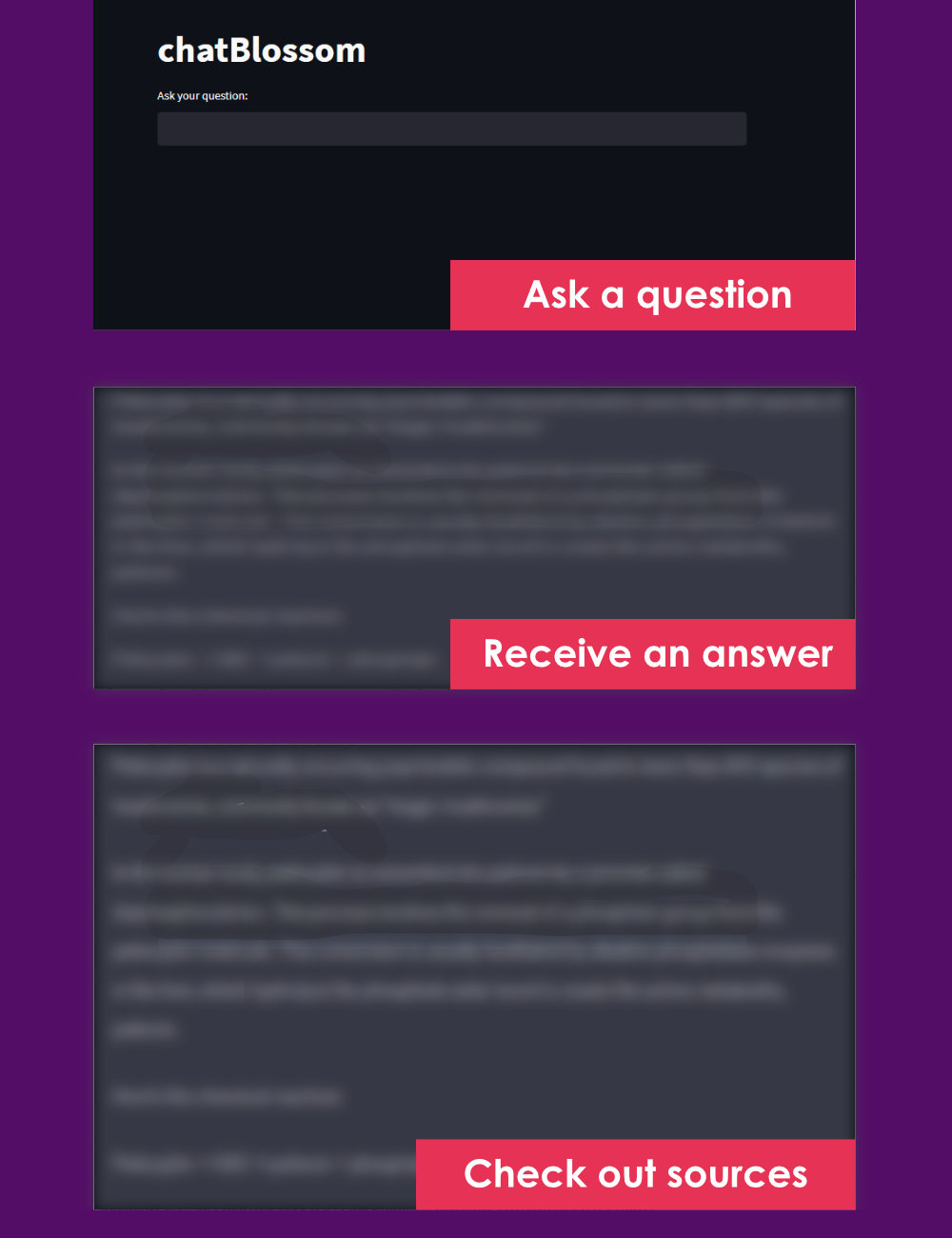 chatBlossom – Your Personal Research Assistant
In development!
Imagine chatting directly with the wealth of research and database information at your disposal. chatBlossom uses advanced AI technology to enable just that. By integrating the full texts of our extensive research collection, chatBlossom allows you to interact with our databases in a whole new way, bringing your research queries to life.
Beyond just generating text, chatBlossom provides the top sources from which the responses are derived. Now, you can quickly trace back information to its original source, saving you precious time and effort in your research journey.
With chatBlossom, you're not just accessing information – you're conversing with it.
Download database data
In the spirit of fostering innovation and growth, Blossom offers the unique opportunity to download select data from our database for use in your own projects. This feature allows you to harness the power of our meticulously curated information, extending its value beyond our platform.
One such example is our Originals Tracker. This dynamic tool keeps track of all published research on clinical studies. By downloading its data, you can repurpose and analyze it in novel ways, potentially leading to new insights and breakthroughs. Whether you're designing a research project, developing a new analytical tool, or looking to augment your current work, our data can serve as a solid foundation.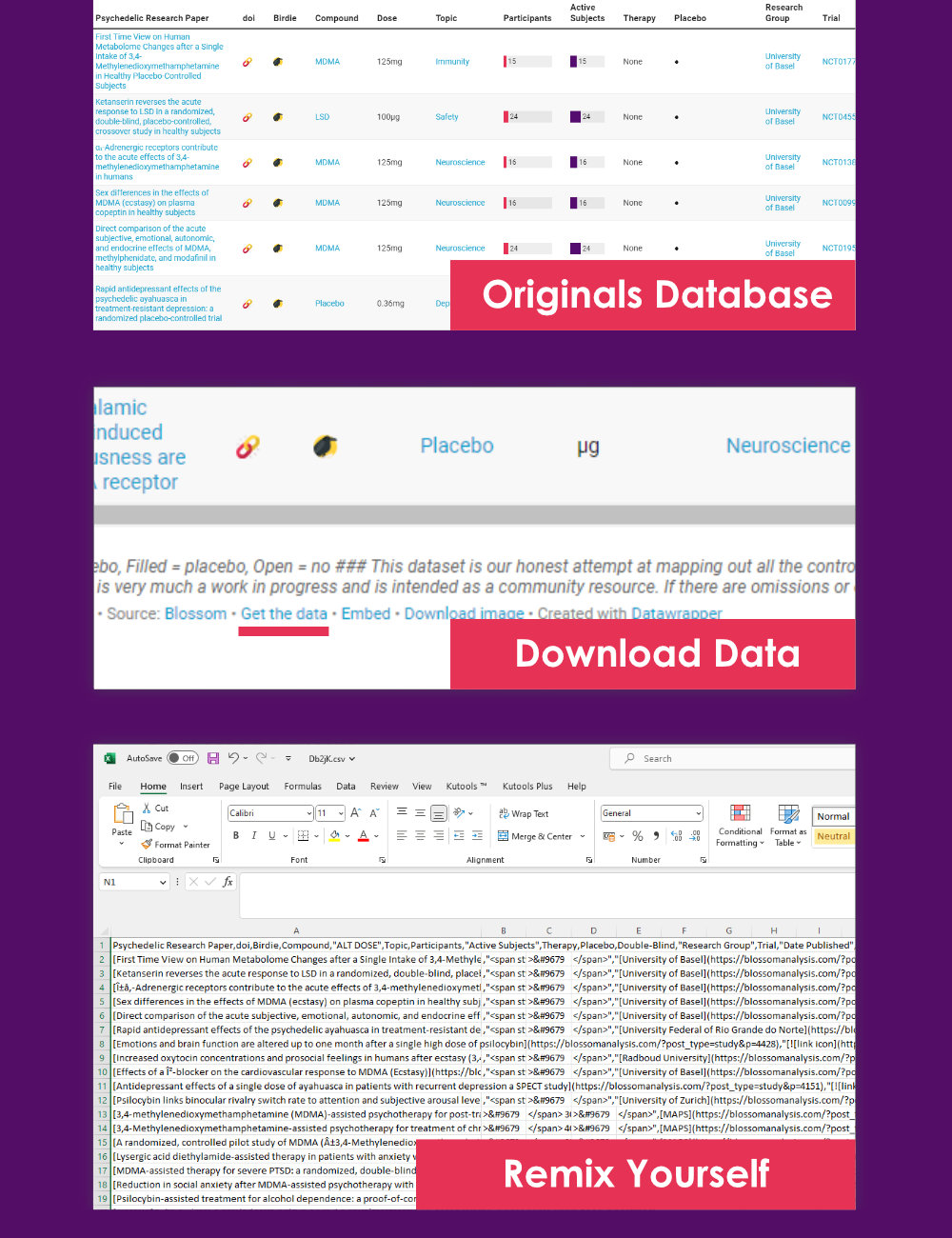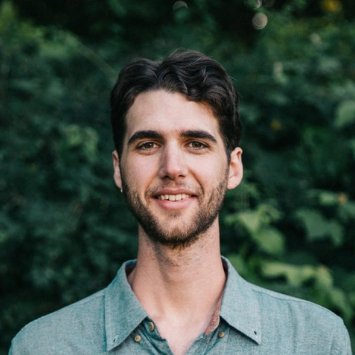 "Floris & Blossom have been such a great partnership with Psychedelic Grad."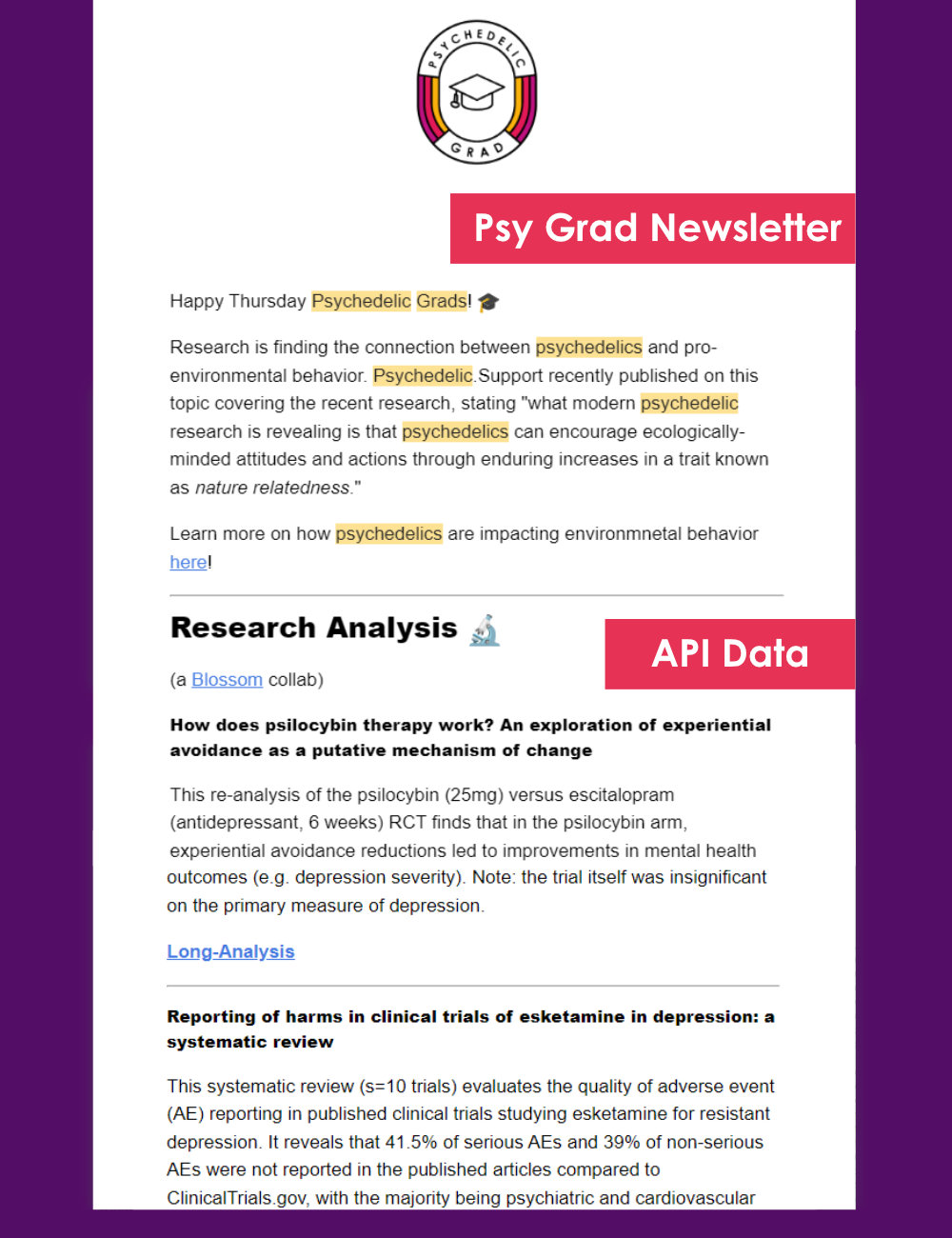 Connect with Blossom's API
Business membership only!
For businesses looking to integrate cutting-edge psychedelic research into their projects, Blossom offers a powerful solution: our API. This interface allows companies to connect with our expansive databases and automatically use our data within their own initiatives.
Imagine the possibilities: You could automatically populate a research feed with the latest findings, inject the most recent psychedelic studies into a newsletter, or even create a dynamic, real-time data visualization. The opportunities are limitless.
A shining example of this integration is Psychedelic Grad. By connecting with our API, they've been able to seamlessly incorporate our data into their newsletter, providing their readers with the most current, relevant research in the field of psychedelics.
About Blossom
Blossom's mission is to speed up the adoption of psychedelics as a tool in therapy and self-development. We do this by providing these resources, since 2019, that bring together different perspectives about psychedelics. We aim to be a critical, grounded in a rational and scientific worldview, yet enthusiastic voice for psychedelics.
Timely & Relevant
Every day we make available the insights coming from psychedelic research and the companies implementing these insights. We spread this information through our newsletter (The Bloom) and partners (e.g., Lucid News).
Insightful & Evergreen
We back up these insights by providing an insightful and evergreen database of everything related to psychedelics as medicines. We make the troves of hidden data visible through detailed and easily searchable information on psychedelic papers, companies, key people, news, events, and more databases.
Leadership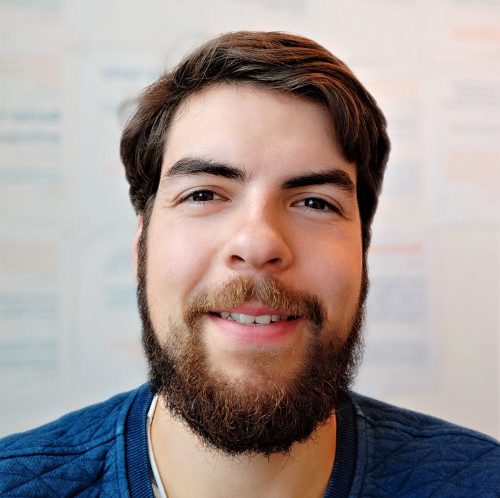 Floris Wolswijk – Founder
Floris started Blossom to scratch his own itch. He couldn't find a place that explained the science of psychedelics in a way that most people could understand. He was missing a place that went beyond Google Scholar searches but was not as dense as an academic book. After not finding such a resource for psychedelics (as medicine), he founded Blossom in September 2019.