See the initial blog post here.
Now three months later, I'm still optimistic, intrigued, and curious as at the start of Blossom. Below I will recap some of the work that I've done. This will be followed by a plan for what I wish to do in the near future.
In the last three months, I've met some great people who also are working in this field. Some are working on their own projects, others see possibilities for working together. Quite soon I plan to incorporate Blossom and see to what extent collaborations will be possible. I think that there I need/want to provide my own vision and set the 'rules' to give people something to work towards. See the third section for part of my vision for Blossom (which I will use as the basis of the about/company page(s) soon).
Recap of the first three months
In the first three months, I've been working on getting most things set up. Much isn't finished yet, but some things have found their routine.
Blossom Analysis

This website now works, you can search around for information
It includes information about some companies, people, articles, and some original articles
I've sent out a newsletter every week

Blossom Guides

The website is finished for now
We tested with more participants
The protocol is also ready to be used and already shared it with two other groups

Psychedelics Directory

Started work on a website that lists all guides/clinics/retreats
The master plan for the coming months
In the coming weeks, I will switch from 'creator' mode to 'promotion' mode. This sounds more dramatic than it is. But it does mean I will go out into the (digital) world more and get people to sign up for the newsletter. Here are all the things I have planned for now:
Blossom Analysis

Make the website look better
Add more search functionalities for paid/registered subscribers

Possibly make it free for now, then only make it paid if it's more complete

Add more companies, people, papers, etc
Probably change the 'news' blog a bit to be more personal/less 'here is everything I found'
Keep writing a weekly article
Keep publishing the newsletters
Add more 'static' content like where to find courses, documentaries, news, etc (make dedicated page for this)
Add more information about Blossom, have more 'story' that people can read

Blossom Guides

Test with more people (when we can see each other in person again)
Start accepting first clients (beta group – at a lower price then later)
Keep improving protocol

Psychedelics Protocol

Make a website where we can share the protocol (for a small price)
And where others can collaborate on making better protocols for various settings/drugs

Psychedelics Directory

Add information of at least 100 companies
Promote the website to the general public and companies

Psychedelics Courses

Make a small website that offers links and information about all psychedelics courses that are out there

This is a smaller side-project that hopes to help people make a choice, no monetary business-plan

Overall

Incorporate and make company structure that fits
Talk to many more people in the field (based on first interactions, everyone is very open to helping each other)
You can check out the current progress and links to all projects at Blossom Act.
The bigger picture, what is my vision for Blossom
Personally, Blossom allows me to work on the three basics of fulfilling work (autonomy, mastery, purpose). It's work in which I can set the rules and make my own schedule. It's work where I can learn more and more, hope to become an expert, and continue to share that journey with others. And it's work where I can really help others.
With the work, I plan to help people who want to solve interesting problems (creativity / self-development) in our private practice (Blossom Guides), other people who work in the field (Blossom Analysis – Psychedelics Protocol), people who are searching for a place to do a session (Psychedelics Directory) and those who want to also learn more (Psychedelics Courses). It's work that I enjoy doing every day.
I see Blossom as a (virtual) backbone of the developing psychedelics field. Where now much of the work being done is not connected, I hope that our 'web' will make this easier and thus advance the field faster. Below I've drawn out how I see this web.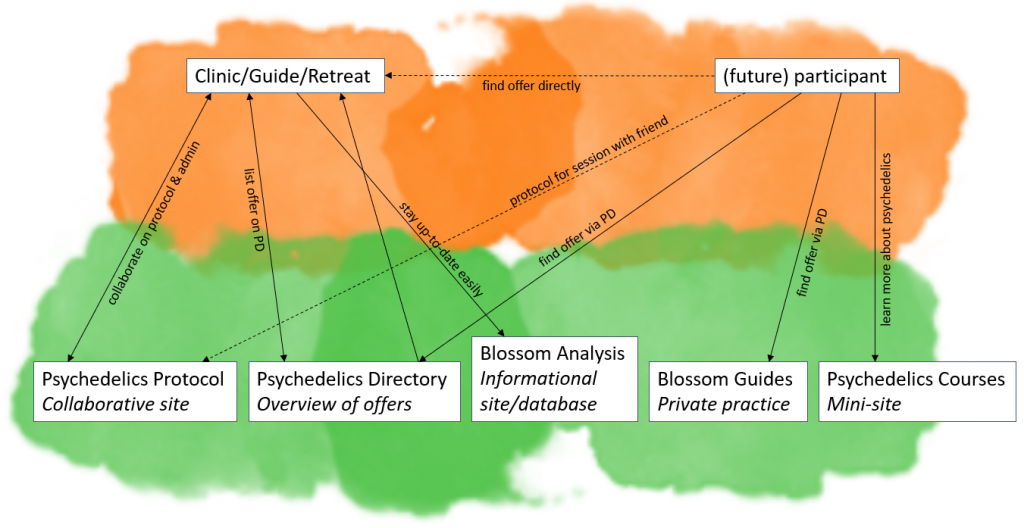 Over time I see Blossom offering a variety of services. These could entail the following (for guides/clinics/retreats):
Protocol (our protocol and the larger collaborative protocol), offered partly for free, partly for a subscription fee (e.g. €100 to access per month)

Flat rate to keep things easy, needs to be enough to pay one or two employees to continuously work on this

More back-office help like standard emails, tips on what software to use, easy google doc/form templates (included on the PD website, over time, based on demand for these things)
Information on Blossom Analysis to advance the knowledge in the field, again partly free and for a subscription fee (e.g. €20 p/m, because a larger group can use it, included if someone already has access to PD)

Could also include consulting services (e.g. help a company with researching something specific, and make that info available (in blog form) later on)

Increase visibility by listing on Psychedelics Directory, again free but with a paid option for 'featured' or something similar
Make collaboration easier, e.g. by offering to host discussion groups for clinicians/guides/retreats and/or scientists and publish notes/learnings
I hope that makes things a bit more clear, it did so for me at least.
Then lastly I want to talk about money.
All of this is currently a work of love, but over time I do hope to be making money by the services above and the private practice. I want to commit myself, already here, to give away all that is not necessary. Let me define what I mean by that, something I hope to put into the bylaws of Blossom when it's incorporated.
Ask a fair price for the (online) services
Ask a relatively high price for the private practice (because of the large time investment, specialization, quality)
Make sure that we only hire people if we can pay them
Work in a 'cooperation' with our own guides (Blossom Guides), so everyone shares equally/gets paid for work done
Commit to donating 10% of the revenue of everything to effective charities

Possibly related to psychedelics (research) directly
Or mental health globally (probably more effective)

Make (legal) commitment to donate a certain percentage of 'excess' (after salaries and reserved for improvements) profit to effective charities
Encourage all personnel to donate part of their salary (I donate 10% already, but everyone's situation is different)
No IPO/investments/etc, that's not what we're into/see as the way forward
Alright, that is enough updates for today. I hope you've gotten a better feel of where it is all going and if you're reading this in the future, of where it all started.
Shoot me an email if you would like to get in touch.